Over the past few years, the Hallyu Wave has pretty much swashed over the whole world and is still continuing to grow, demonstrating the importance of overseas fans in spreading the "K-Pop love". Arirang TV, a major Korean television channel promoting Korea's uniqueness all over the globe with its English language programs, created a music show dedicated specifically to the international community: Simply K-Pop.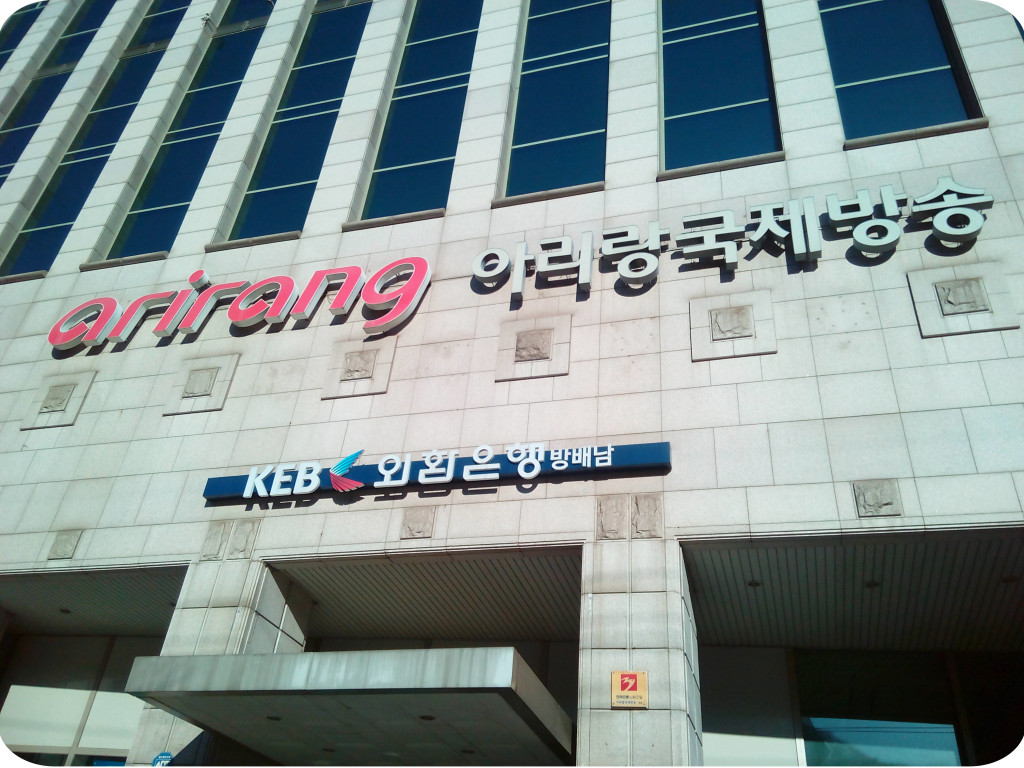 First of all, I'd like to apologize for the lack of pictures in this post; taking photos inside the studio is strictly forbidden.
On Monday 9th February, I was able to join the audience of Arirang's infamous K-Pop Show "Simply K-Pop". I was even as lucky as to get into the three recordings on that day!
Now, how you do you get into the show? It's actually very simple: Go on Arirang's Website and wait for them to announce the pre-recordings and recordings, which are generally on every second Monday. As soon as the announcements are online, follow their instructions and apply on the forum board with your name, e-mail and phone number. Don't forget to mark your message on the forum as "closed", otherwise everyone can see your personal information.
On Sunday evening, they send out e-mails to everyone who got in, and with a little bit of luck, you too might be able to join the audience. The e-mail also includes clear instructions on how to get into the Arirang studio, so don't worry about getting lost on your way to the event  ;)!
When you arrive at the studio, there's usually a staff member with a name list either in the main lobby or in the cafe downstairs. Get your name checked and then wait until they ask you and the other international fans to queue up and go into the recording studio. Before the show starts, they will request a few of the foreigners to deliver a piece to camera or get interviewed during the recording by the host, Eli of U-Kiss (Eli told us that he will go to China for a few months, though, so the host might be someone else in your case).
On that day, we saw a lot of artists. And by a lot I mean way more than I would ever have been able to imagine. Some of them include 4Minute, Nine Muses, U-Kiss (we even got to talk to Eli :), Lizzy from After School, Infinite H, Jonghyun from SHINee and the list goes on. The best part about Simply K-Pop is that, as they prerecord performances for two different shows on one day, you get to see your favorite groups more than once!
What I like about this show the most is the interactivity between the artists and the audience. Since the studio is quite small, you're pretty close to the singers and in-between the performances, you might be able to talk to some of them or even shake their hands (I'm not kidding, still can't believe I gave Hoya of Infinite a high five xD").
Keep in mind that if you get into a few recordings, like me, or even only into the main recording, it will take a long time, so be prepared. Eat something before you go in and check the transportation time table to know when the last subway/bus for your destination will be leaving the station. In my case, the evening recording lasted until 11pm, but I heard from some other international fans that the show once went on until 11:45pm, so you might consider taking some cash with you to pay for a taxi.
So, that's basically it. I hope that if you come to Seoul, you will try to get into this wonderful show as well 🙂
Till next time,
Julie