Two months ago, I did something I never would have thought I would do: I filmed a television show here in Korea! And the best part is that I got to meet two of my all-time favorite idols: Super Junior D&E.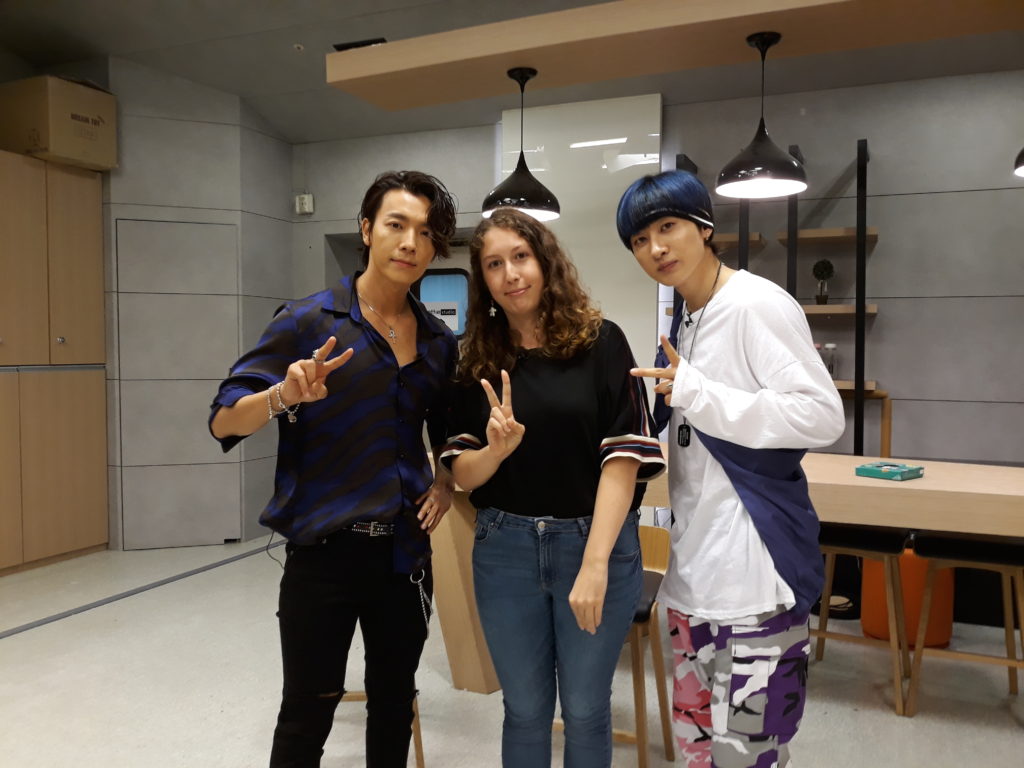 Let me start from the beginning: In August, I saw a posting on Yonsei KLI's job board looking for foreigners to film a TV show called "K-Rush" with K-pop idols. It was summer break and I had some time to spare so I thought "why not" and applied. A couple of weeks later I received a message from one of the producers of the show asking me if I was interested to come in that Friday. Later that week, she told me I was going to meet Super Junior D&E (imagine my reaction when I heard that) and asked me to sing or dance to one of their songs. I decided to learn the lyrics of their newly released song. The thing is, I hadn't watched the show before I went to the studio, so I originally thought there would be other foreigners in the studio audience and I wouldn't have to sing after all. Turns out, it was only the MC, Super Junior D&E and me.
On a rainy Friday afternoon, I made my way to the KBS studio in Yeouido all nervous and sweaty. I had no idea what to expect. The producer brought me into the studio, where all the producers and the MC were waiting for Super Junior D&E to arrive. I looked at the 4 chairs in the middle of the room and all those cameras facing the chairs and became more and more nervous.
After about 20 minutes of awkward conversations with the rest of the producers, the door opened and Eunhyuk and Donghae made their way into the studio. They greeted and shook hands with the producers, the MC and me and then we sat down in the chairs. The MC introduced me to them and Donghae was confused because he thought I was one of the producers. We then started filming the show and the taping went on for about 40 minutes (but was cut to 17 minutes airtime). One of the things they cut out was when the MC asked where they wanted to go on tour next and they mentioned Europe (as well as Canada and the United Arab Emirates). The MC then asked them if they maybe wanted to go to Luxembourg (my home country) and they answered yes. Eunhyuk talked about how he has travelled to Luxembourg before and he really enjoyed his trip.
Throughout the whole taping, I sat there listening to Super Junior D&E and reacting to what they were saying. I knew that there were a few cameras pointing at my face, so I wanted to show great facial expressions that they could put in the show later. Most of my facial expressions turned out quite awkward, though. Oh, and about the singing part: well, I had to sing in front of Super Junior D&E which was nerve-wracking, but I managed to do somewhat ok even though I am not a great singer (luckily, they cut out some of the singing part as well). After the taping was done, Eunhyuk tried to talk to me and asked me if I was living in Korea, but I was barely able to answer because the producer was already hushing me out of the studio.
Overall, it was an amazing experience that I will most certainly not forget. If you want to watch the show, you can find it here (don't forget to turn on subtitles).
Also, if you're a K-pop fan and you're planning on coming to Korea, you should check out Trazy and OneMoreTrip, where you can find some great experience programs and even K-pop concert tickets. For Korea and K-pop related merch, check out my Korea design collection! And if you want to know more about how to buy concert tickets, have a look at this article.
Till next time,
Julie