Seoul is a city full of places to visit and things to experience, but what if your time in Seoul is limited? You are in luck, as most of the major tourist sites in Seoul are located close to each other, making it possible to even get around on foot. If you start early in the morning, you will be able to stop by  these tourist attractions:
10am – Statue of King Sejong and Story of King Sejong Exhibition Hall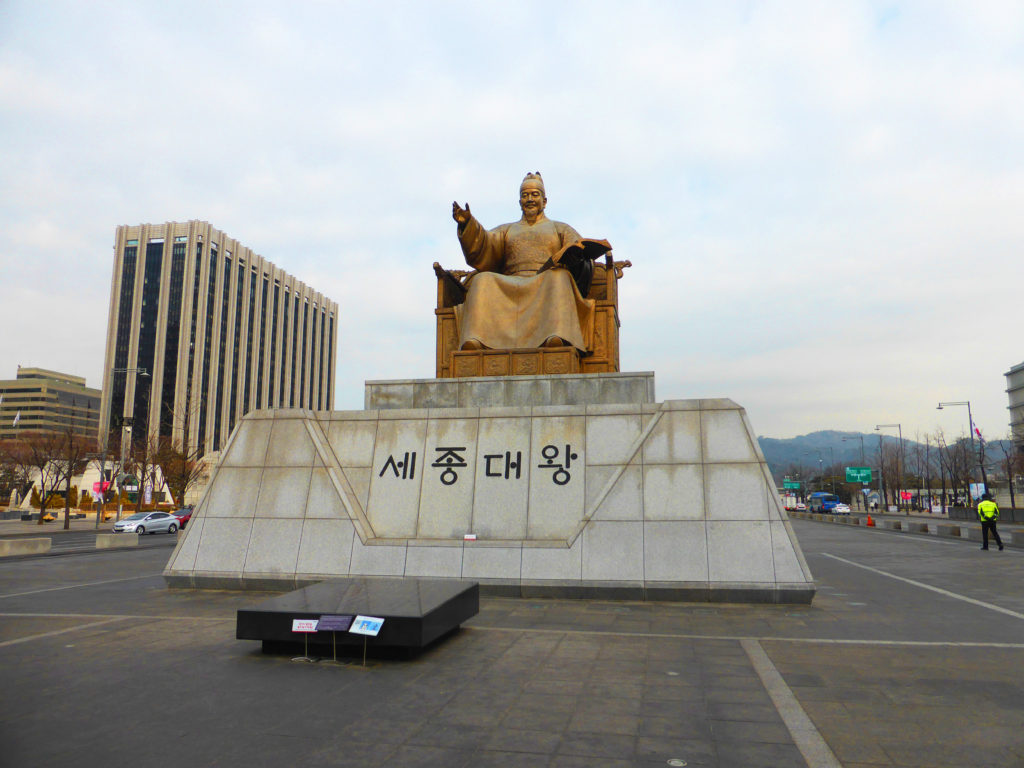 Your one-day Seoul itinerary starts at the statue of King Sejong, creator of Hangeul, the Korean alphabet. The statue is located right outside exit 2 of Gwanghwamun station (line 5). It is one of the most-loved photo zones in South Korea, but what makes it even more special is the museum located underneath it. At the Story of King Sejong exhibition hall, you can find out more about the creation of Hangeul and other inventions of King Sejong.
The museum is open from 10am to 8pm (closed on Mondays). Entry is free.
11am – Gyeongbokgung Palace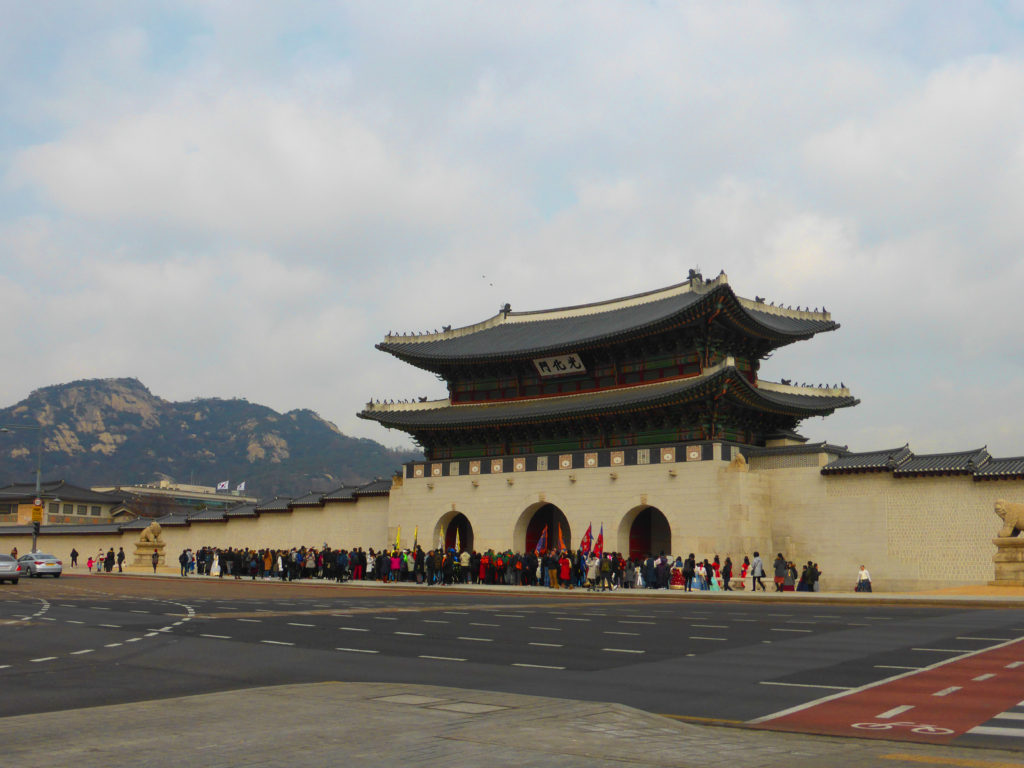 Gyeongbokgung Palace is just a stone's throw away from the statue of King Sejong. If you get there by 11am, you will be right on time for the Gwanghwamun Gate Guard-On-Duty performance.  After watching the performance, head inside and be blown away by the beauty of the largest of Seoul's five palaces. There is even a museum located inside the palace premises, leaving you with lots to explore.
Gyeongbokgung Palace is open from 9am to 5pm from November to February, from 9am to 6pm from March to May and September to October and from 9am to 6:30pm from June to August (closed on Tuesdays). General admission is 3,000 won for adults and 1,500 for children.
1pm – Insadong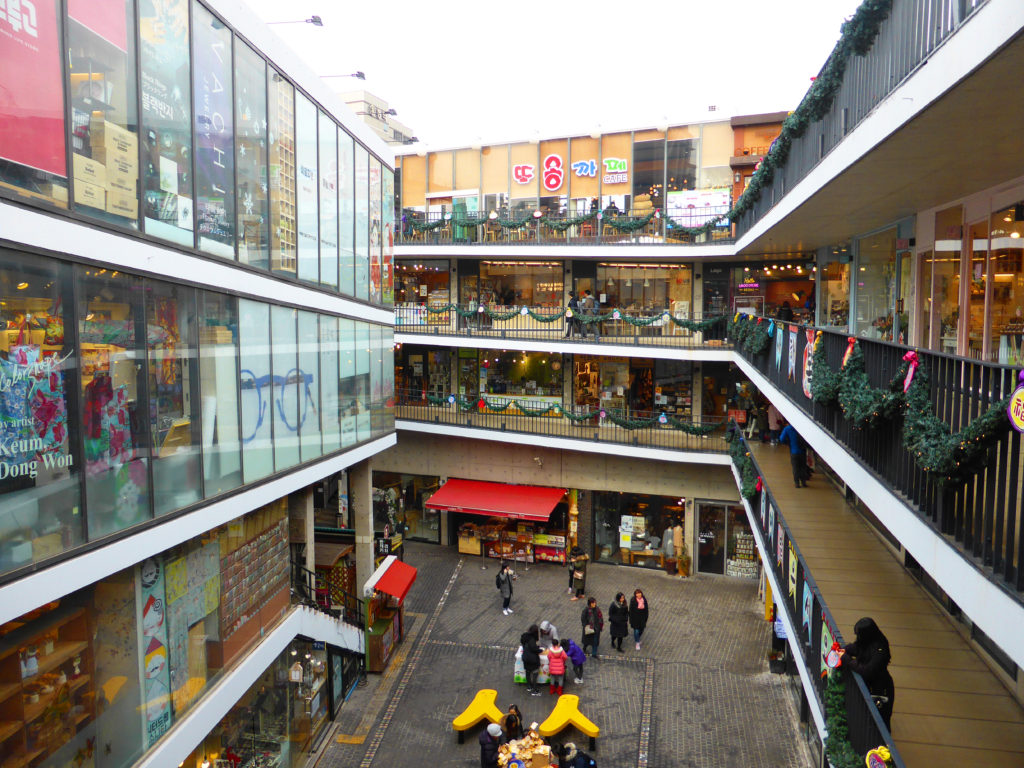 From Gyeongbokgung, go towards Anguk station (line 3). After a 10-minute walk, you will reach Insadong, a neighborhood filled with art galleries and souvenir shops. Insadong is also known for its traditional teahouses and restaurants, making it a great place to have lunch before heading to your next destination.
2pm – Bukchon Hanok Village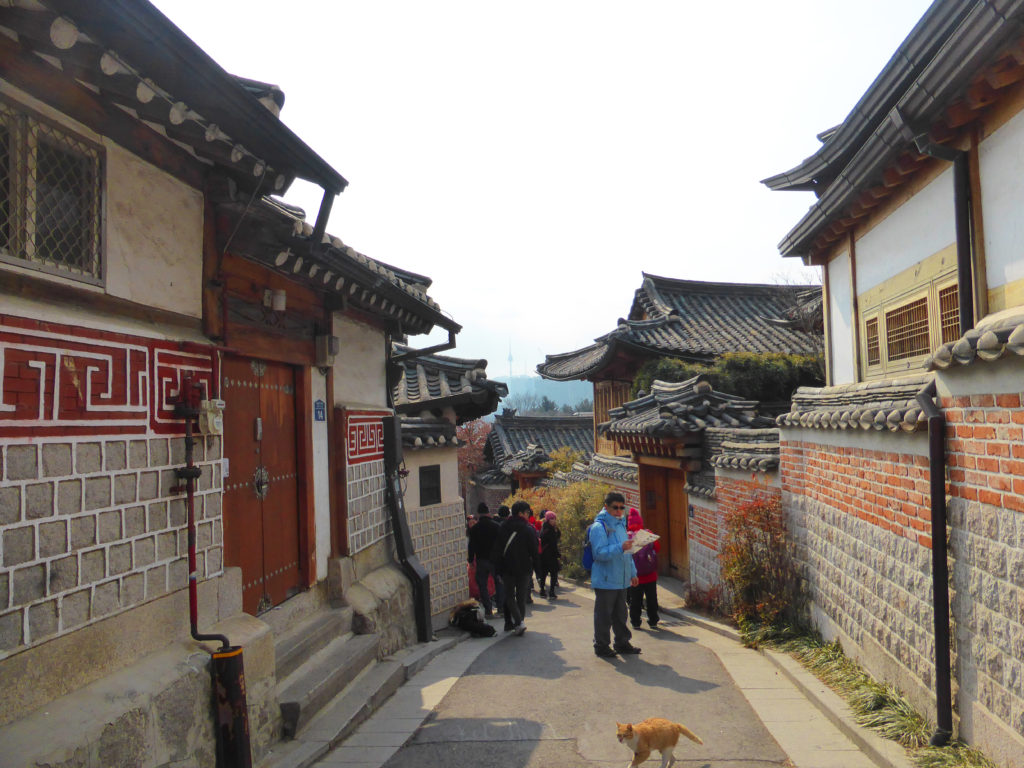 Bukchon Hanok Village is located about 10 minutes on foot from Anguk station exit 2. Hanok are traditional Korean houses. Bukchon Hanok Village, unlike other Hanok villages in South Korea, was not created for tourists, but dates back to the Joseon dynasty. At the time, the village was home to high-ranking officials and noblemen. Nowadays, a lot of the hanok have been transformed into shops, cafes and guesthouses, but there still are a number of people living inside the traditional houses.
Bukchon Hanok Village is open all year round and entry is free. The village is a residential area, so please be mindful of residents and try to be quiet.
3pm – Jogyesa Temple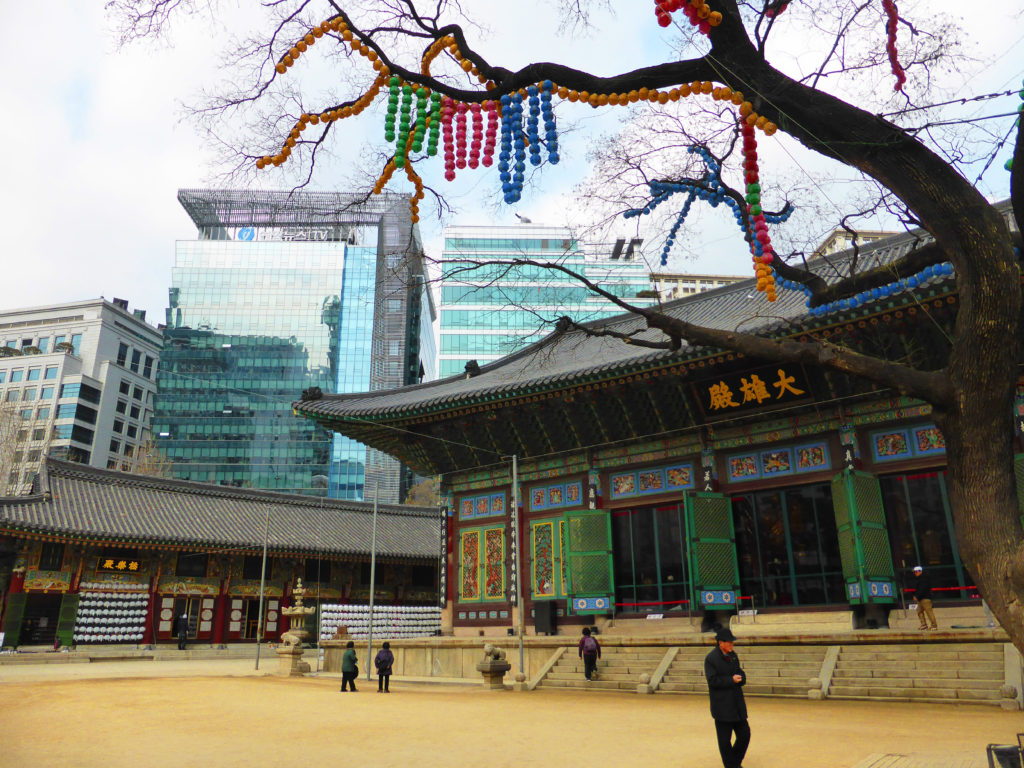 If you head back to Insadong, you will discover a temple located in the same neighborhood. Jogyesa Temple is the main temple of Korean Buddhism and was built in the 14th century. Jogyesa Temple stands in great contrast to the busy streets located right next to the temple. The best time to visit this temple is during Buddha's birthday, which is usually held in May.
Jogyesa Temple is open all year round and entry is free.
4pm – Namsan Seoul Tower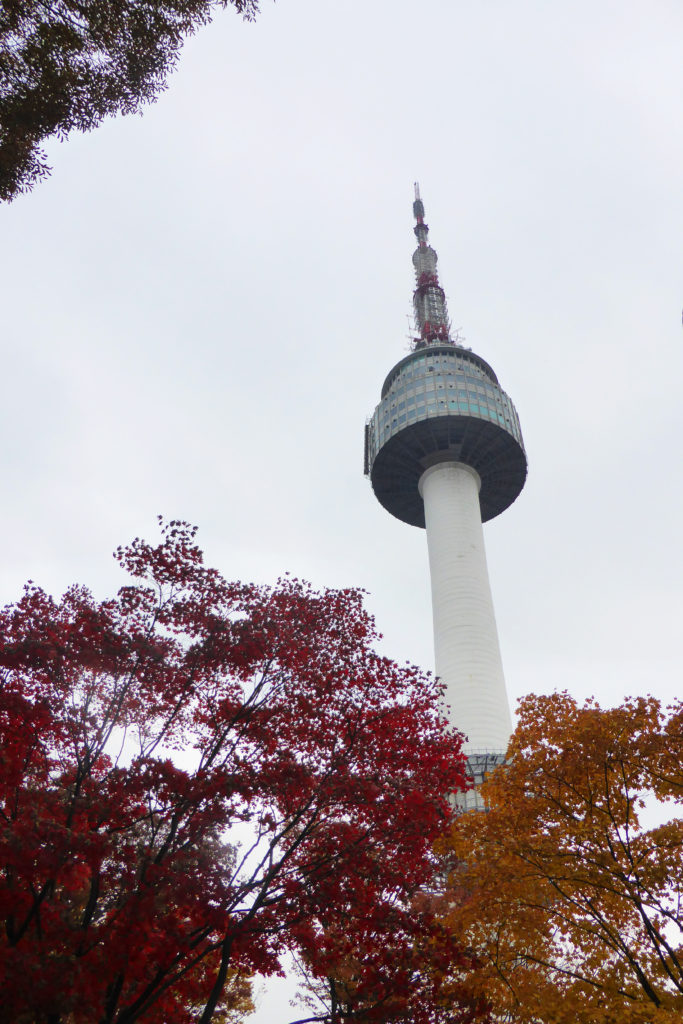 Take bus number 401 right across the street from Jogyesa temple and after a 20-minute bus ride, get out at Namsan Third Tunnel bus stop. From there, walk to the lift that will take you to the Namsan cable car. The cable car will take you all the way up to Namsan Seoul Tower, where you will get a great view of the city.
Namsan cable car operates from 10am to 11pm. One round-trip ticket costs 8,500 won for adults and 5,500 won for children. Namsan Seoul Tower opens from 10am to 11pm. Entry to the observatory costs 10,000 won for adults and 8,000 won for children.
6pm – Myeongdong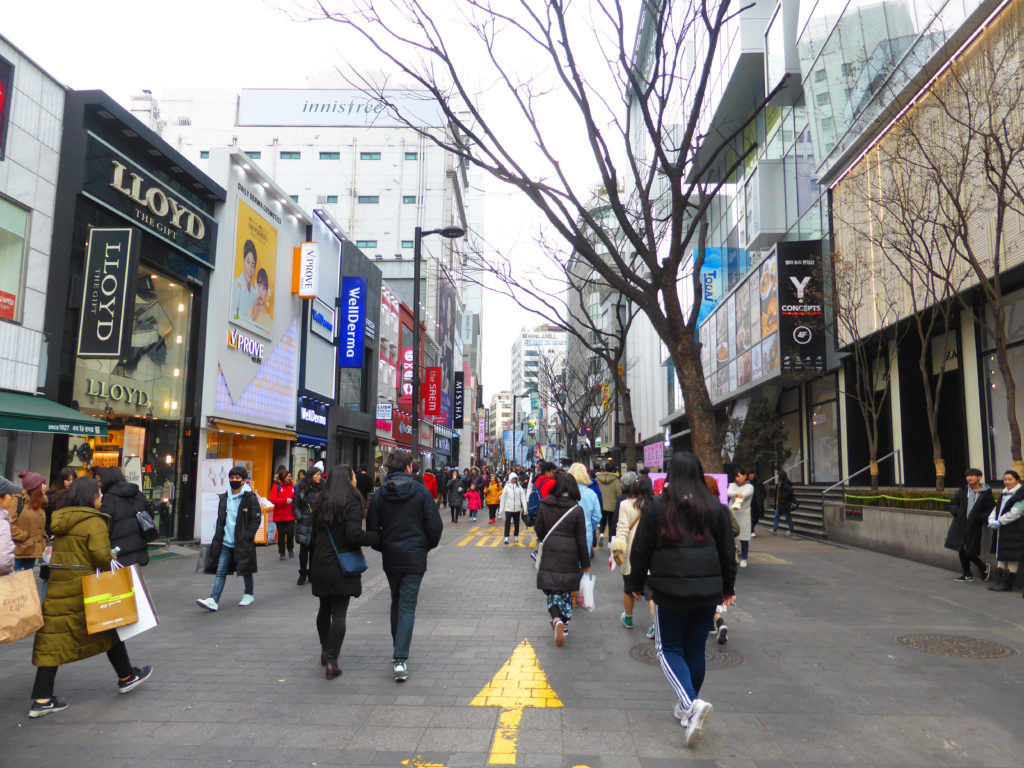 The last stop of the day is Myeongdong, the main shopping district of Seoul. Myeongdong is only a five-minute walk away from Namsan cable car. At night, the streets are filled with food carts, giving you the chance to try all kinds of Korean snacks and drinks. In addition, most shops only close around 10pm, so there is enough time to shop Korean make up and fashion items.
*All prices and opening times are correct at time of writing.
Also, if you want to join a tour while you're staying in Seoul, I recommend Trazy and Seoul City Walking Tours, which both offer a lot of different tours.
I hope this was helpful 🙂
Till next time,
Julie